Ned
The Featured Paddler of the Week is Ned Bindle.
Age: 29
Sign: Pisces
Occupation: Bus driver
Favorite Song: Bolero
Favorite Movie: 9 1/2 Weeks
Hobbies:Line Dancing, painting in the nude, and ballroom dancing.
Personal Hero Figures: Mike Tyson
Favorite quote: "Rehab is for quitters."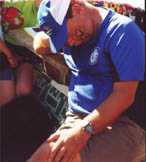 Ned is a bus driver for a small school bus company... he takes care of herding rodents to their schools during the year, and during the summer, he paddles and steers with us River Rats.

Ned is a really multi-dimensional guy, having recently taken up tango and flamenco dance lessons...claiming that he meets lots of girls that way.

When he is not behind the wheel, dancing flamenco, or holding a paddle, you can find Ned in front of the TV, watching boxing while doing crochet.

It's great to have you paddling with us, Ned! You're the best!